Client Background
Our client is a rapidly growing FinTech startup – a neo-bank from LATAM. Their mobile bank has issued over 4M virtual cards, and they are among the leaders in similar online banking solutions.
Business Challenge
Approximately one year ago, the company's DevOps engineer left the project, leaving the maintenance responsibilities to the development team. This transition plunged the project into chaos, devoid of DevOps methodologies and tools. The application of neo-bank was built by an in-house team using a modern approach like Infrastructure as code (IaC). However, the infrastructure needed a structure and comprehensive documentation. The company also neglected to use most DevOps practices.
Solution
When Gart stepped in, the immediate challenge was rejuvenating the infrastructure without rebuilding the entire project with microservices and Kubernetes.
Step 2: Improving the Build Process
We initiated a shift from localized Terraform deployments to a streamlined and automated GitLab Continuous Integration, Delivery & Deployment (CI/CD) pipeline.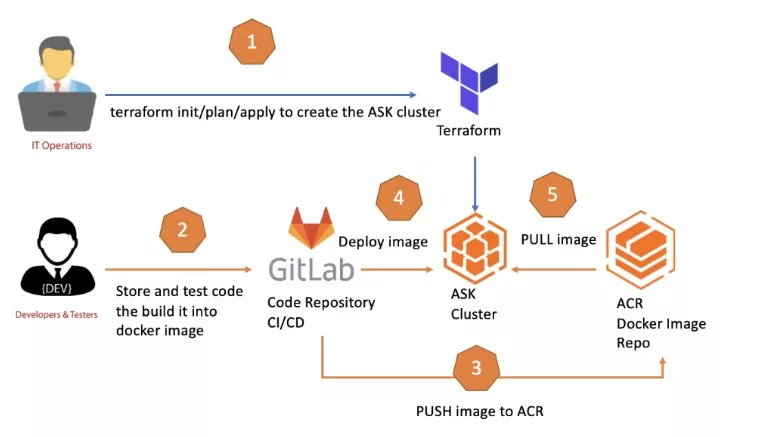 The new approach provided a comprehensive view of the impending infrastructure changes during merger requests. This newfound transparency allowed every team member to assess the safety of initiating the deployment process. Collaboration among infrastructure developers improved significantly, minimizing conflicts and disparities in infrastructure states. The simplified workflow empowered the team to effect infrastructure changes autonomously, reducing operational costs and dependency on the DevOps engineer.
Step 2: Reworking the IaC
Following industry best practices, we restructured the Infrastructure as Code (IaC) to make it more intelligible, orderly, and developer-friendly. Simultaneously, we meticulously documented crucial components, streamlining maintenance and incorporating new elements.